Iulian Bisericaru (b. 1987) graduated from the University of Art and Design in Cluj-Napoca with a major in painting. He is currently working on his PhD thesis at the same university, researching the connections between architecture and painting. The lush landscapes in his pictorial works approach space from different but complementary perspectives. Apparent collages and sections of architectural plans are superimposed over images of abundant vegetation in a critical commentary on environmentalist ideology.In the summer of 2017 Iulian Bisericaru participates in the international art residency in Aschersleben, supported by Eigen +ART Gallery in Leipzig. The works developed during that period form the core of his latest solo exhibition at Galeria Anca Poterasu, December 2017 – January 2018, Bucharest. In 2009, she obtains a residency grant from the Academy of Art in Macerata, Italy. He was nominated for the Start Point Award and won the Expomaraton Award. In 2017, his work entitled Diebenkon background appeared on the cover of the Italian publication La Letura – Corriere dela Sera (July, 2017). Iulian Bisericaru is represented by Anca Poterașu Gallery in Bucharest. In 2022, his first artist catalogue will be launched.
Aurora Király works mainly with photographic images, creating complex connections between the private and public spheres. At the intersection of photography with textile art, drawing and installation, the artist explores how the mind records, relives and accesses the mechanisms of memory. Aurora Király is particularly interested in exploring feminist theories of identity creation and the status of women in society. The artist teaches at the University of Arts in Bucharest and is known for her role in sustaining and reshaping the cultural art scene in Bucharest as artistic director of Galeria Nouă (2001 – 2012). Her works are part of public and private collections, presented in the following selected exhibitions: After twelve years. Artistic production in Romania in 180 works (National Museum of Contemporary Art, RO, 2020 – 2021); The Show That Never Was (Anca Poterașu Gallery, RO, 2021); Corsete then and now (Zina Gallery, RO, 2021); 4 | 14 | 26 degrees east (Anca Poterașu Gallery and lítost, BE, 2020); In Midst of the Worst, the Best of Times (SUMO – The Odd year at lítost Prague, CZ, 2020); A Room of Her Own, (NADA Gallery Open NY Harlem CT Collective, US, 2020); In the Midst of the Storm (Anca Poterașu Gallery, RO, 2019); Ex-East. Past and recent stories of the Romanian avant-gardes (Espace Niemeyer, Paris, FR, 2019); Din unghiuri diferite (The National Museum of Contemporary Art, RO, 2018); Woman, All Too Woman – a 3rd edition of Baroc Urban (Art Museum, Timișoara RO, 2018); Orient – Trauma & Revival: Contemporary Encounters (Kim? Laikmetīgās mākslas centrs, Riga / BOZAR Centre for Contemporary Art, Brussels/ Gallery Sztuki Współczesnej Bunkier Sztuki, Kraków, 2018); Conjunctions (solo – show, Spinnerei Leipzig Project Space, DE, 2018); Constructed Geometries. Space / Time / Memory (solo – show, Anca Poterașu Gallery, RO, 2017); Life – way of use (Art Encounters Contemporary Art Biennial, RO, 2017); Reality Check (solo – show Calina  Gallery, Timișoara RO, 2016); Ex Future (Arcub Gabroveni, RO, 2016); Our History about the Others. Bucharest – A city seen through four lenses (White Night of Galleries #10 at Scena9 RO, 2016); Girls with Ideas [Boys and Paintings] (Lateral ArtSpace, Paintbrush Factory, Cluj, RO, 2016); Brain Tatoos – A Map of Obssesions, (Romanian Cultural Institute Lisbon, PT, 2016); Cut & Paste Histories (Alert Studio, Bucharest, RO, 2015); WHAT ABOUT Y[OUR] MEMORY (The National Museum of Contemporary Art, RO, 2014).
Anetta Mona Chisa (1975) lives and works in Prague. Between 1994 and 2000 she studied at the Academy of Fine Arts in Bratislava. In 2006, together with Lucia Tkáčová she was awarded the Oskár Čepan Prize, and in 2011 she exhibited at the 54th Venice Biennale in the exhibition Performing History (with Lucia Tkacova and Ion Grigorescu). Anetta Mona Chisa's artistic practice often takes place in the form of collaborative exhibitions and installations, and she is particularly concerned with discontinuities and transformation of the East European socio-political context. The artist reflects on changing systems of reference in a world that increasingly adheres to axiomatic constraints in technological development, the capitalist system and radical individualism. Anetta Mona Chisa's solo and collaborative projects include exhibitions at Kunstraum Lakeside (2021), Kunsthalle Bratislava (2021), Museumcultuur Strombeek Gent (2019), Kunstraum Niederroesterreich, Vienna (2017), Waterside Contemporary, London (2013); Galerie Christine Koenig, Vienna (2011), Salonul de proiecte București (2011) or Neuer Berliner Kunstverein, Berlin (2008), in transit. sk, Bratislava (2006); Centre for Contemporary Art Futura, Prague (2006). Chisa has participated in group exhibitions at the National Museum of Contemporary Art in Bucharest; at the 10th Manifesta in St. Petersburg; in Kunstrau Kreuzberg / Bethanien, Berlin; CONTEXT Art Miami; tranzit. ro, Bucharest; Cultuurcentrum Strombeek, Grimbergen; Whitechapel Gallery, London; at the 3rd International Biennale of Young Art in Moscow; in the Museum of Art, Łódź; Thyssen-Bornemisza Art Contemporary, Vienna; MUMOK, Vienna and at the 29th Biennale of Graphic Arts in Ljubljana.
Larisa Crunțeanu studied Photography and Dynamic Imaging, with a PhD at the University of Art in Bucharest. The artist works with video and performance, at the intersection of research and exploration, often in collaborative projects, creating contexts for the development of new artistic practices. Her work has been part of important exhibitions such as her solo-show at the National Museum of Contemporary Art, as well as group and solo exhibitions in Berlin, SAVVY Contemporary, Zacheta Project Room Warsaw, RKI Berlin, Museu de Arte Brasieira – MAB FAAP, São Paulo Her work has been exhibited in institutions such as the National Museum of Contemporary Art in Bucharest, SAVVY Berlin, Zacheta Project RoomWarsaw, RKI Berlin, Museu deArte Brasieira – MAB FAAP, São Paulo. His works are part of important exhibitions and events such as: 2021, One day the day will come when the day will not come, Art Encounters Biennial 2021, Timișoara; 2020-2021, DO IT BY HEART, National Museum of Contemporary Art, Bucharest; 2021, Image Fantome, Anca Poterașu Gallery, Bucharest; 2020-2021, 12 YEARS AFTER. A SURVEY OF ROMANIAN ART IN 180 WORKS, MNAC Bucharest; 2020, Les Films de Cannes à Bucarest, Bucharest;2020, New East Poetistas, Alte Feuerwache-Projektraum, Berlin; 2020, A Room Full of Hysterical Women, Artissima Fondamenta, Torino; 2020, The Winner Takes It All, Montez Press Radio, New York; 2020, Wish, wishing and some associations to that, Radio Corax, Halle; 2020, A Room of One's Own, Anca Poterașu Gallery, as part of NADA New York Gallery Open, Catinca Tăbăcaru Gallery, New York; 2020, R. A.B.L.A. (Random Archives & Basic Loop Activators), kinema ikon, Arad Art Museum, Arad; 2019, Artissima Telephone, OGR Torino; 2019, A Room Full of Hysterical Women, Artissima ArtFair, Torino; 2019, BLUEPRINT, HALLE9 Leipzig; 2019, Keep Forgetting to Forget Me, Anca Poterașu Gallery, Spinnerei Leipzig;2019, ULTRASANITY, Savvy Contemporary and ifa Galerie, Berlin; 2019, Foreign Artists in Warsaw, Warsaw Biennale, Warsaw; 2018.
Lise Wulff is born in Oslo, Norway in 1970. She studied at Det Tverrfaglige Kunstinstitutt, graduating in 2004. Wulff is involved in several art installations for public space, environmental and human rights projects. She is an active supporter of the UN-led Safe Planet initiative, a member of NBK, the professional organisation for visual artists in Norway, leader of BKiB, the organisation for professional artists in Bærum, and founder of the environmental art project The Scream from Nature, which aims to bring greater awareness to the relationship between people and nature. Recent exhibitions include a site-specific installation at Museum Berger, Fosskleiva, Norway, Izložba 34. i 35. at Treci Beograd, Belgrade, Serbia, City Rooms, a site/time-specific installation at Bærum Kunstforening, Sandvika, Norway, Lost Garden at Henie Onstad Art Centre, Høvikodden, Norway, and Beneath at Califia Gallery, Horazdovice, Czech Republic.
Blue Sun. Conversations on art, science and ecology / National Museum of Art Timisoara
Artists: Iulian Bisericaru, Aurora Kiraly, Anetta Mona Chisa, Larisa Crunteanu, Lise Wulff
Curated by Anja Lückenkemper
26.09-30.11.2023
National Museum of Art Timisoara
Public space: Botanic Park, Unirii Square, Cazarma U, Bega River (vaporetto)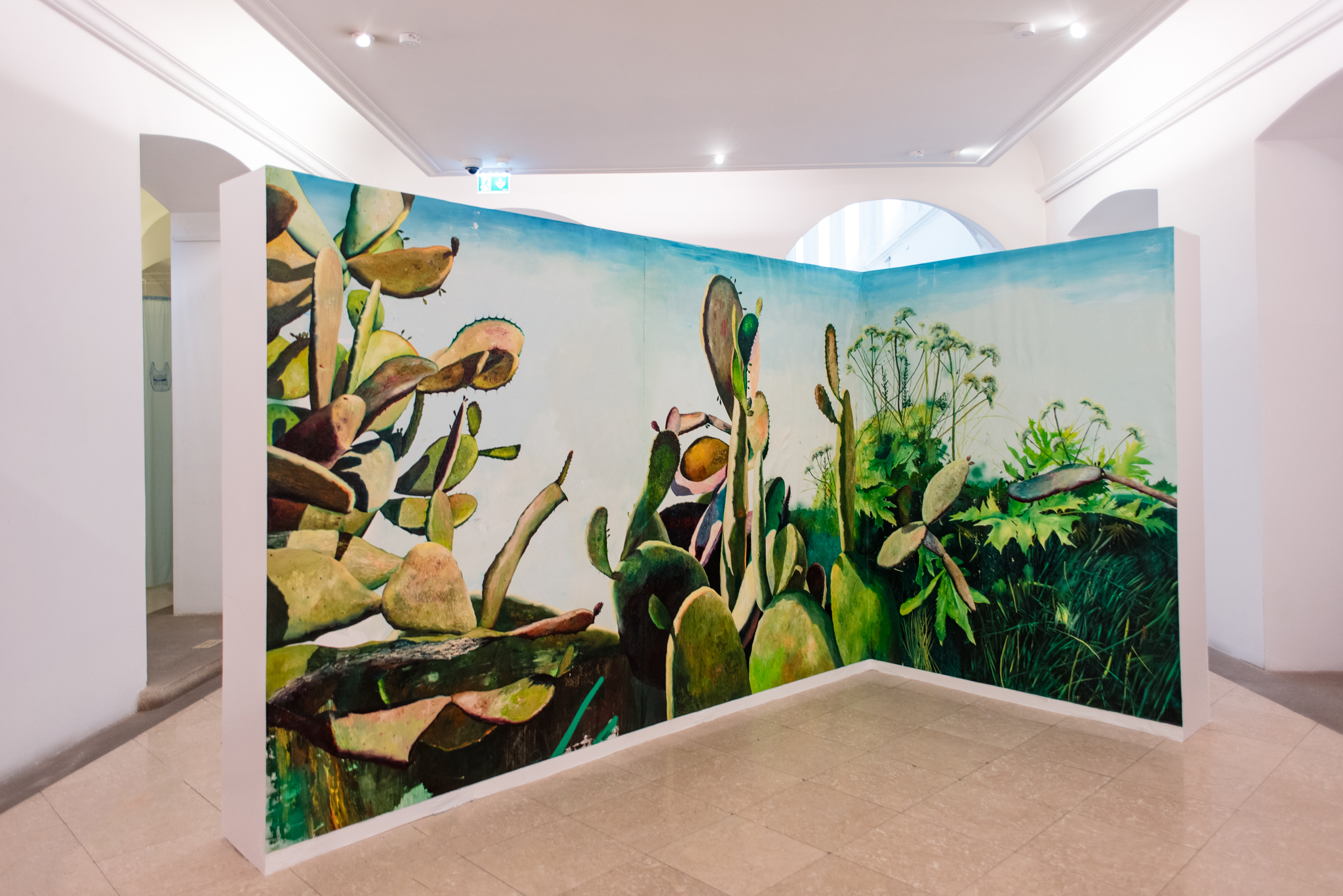 On September 27, 1950 the British newspaper The Daily Telegraph reported a rare phenomenon: "Glasgow, Tuesday – All over Scotland for more than an hour this afternoon people saw a 'blue' sun. (…) The blue hue changed constantly, as though smoke were drifting across the sun…"
According to flight reports there were at least two layers of air turbulence over Scotland on that day: a dark layer of dust and sand in the stratosphere, about 13 km high, attributed later to sandstorms and volcanic eruptions, but more curiously a thick layer of ice particles in conspicuously high density within the thin cirrus cloud formation in the troposphere, between 6-9 km high. Now, cirrus clouds are always ice clouds, yet this time scientists speculated the high accumulation of ice had a different cause: a giant chain of forest fires raging in the Canadian Northwest. Ash, the by-product of combustion processes, could have been carried to high altitudes by the rising warm air currents and thus acted as sublimation nuclei in the formation of these ice particles. Distributing wind currents distributed resulting in atmospheric turbidity over the North Atlantic and large parts of Northern and Central Europe. Experts of the time believed that these two layers together filtered out the other colors of the visible solar light spectrum – the color blue remaining predominant –, resulting in sightings of a peculiar Blue Sun.
Nowadays, devastating forest fires have become an annual event not just in Canada, but all over the world – also in areas which were not previously prone to intense fire danger. Recent data (University of Maryland, 2022) shows they are burning nearly twice as much tree cover today as they did 20 years ago. Forest fires are one of the biggest indicators for climate change. But climate change has long affected the world we live in with various palpable consequences: heat weaves, rising sea levels, draughts, floods, species extinction are but a few. Looking at these numbers and statistics, it is not hard to imagine a dystopian – though eerily realistic – future of an ever-burning world. Will we soon live in the age of a perpetual Blue Sun?
In the face of these pressing global issues, of climate and humanitarian crises, ecology and our relationship to the natural world have become a central issue: we need altered ways to relate to the non-human world. Continuing to think in categories and binaries, as established by the Enlightenment, does not seem to provide feasible solutions – and these matters cannot be solved by a single method, we need to engage in transdisciplinary conversations. Our complex world requires different mythologies, changed narratologies, if we want to continue to live in liveable worlds.
There are varied attempts – old and new – to find positive ways to connect with nature, ways to overcome the distance between us and the world, not only by Western researchers and scientists, but also by indigenous thinkers, philosophers, and, most crucially, by artists. At the same time, however, we are reaching the limits of what can be said argumentatively, we are reaching the limits of language, and we need to find a reformulation of what our senses are for. Artists are fundamental in finding new imaginaries and forming new sensory languages. So what can be new entanglements with the non-human world? How can we overcome the dichotomies and collapse the distance between ourselves and the world that Western thought has introduced? How can we fight for and care for our environment?
The exhibition Blue Sun – Conversations on art, science and ecology invites five artists to sound out new imaginaries. At Timisoara Art Museum, and in selected sites in public space,  Iulian Bisericaru, Anetta Mona Chisa, Larisa Crunțeanu, Aurora Kiraly, and Lise Wulff offer contributions to this bigger conversation on relationality. They weave a net of complex storytelling, speculating on and trying out altered ways of being with the world.
The project "Blue Sun. Conversations on art, science, and ecology" benefits from a 93960 Euro grant from Iceland, Liechtenstein and Norway through the EEA and Norway Grants.
The EEA and Norway Grants represent the contribution of Iceland, Liechtenstein and Norway towards a green, competitive and inclusive Europe. There are two overall objectives: reduction of economic and social disparities in Europe, and to
strengthen bilateral relations between the donor countries and 15 EU countries in Central and Southern Europe and the Baltics. The three donor countries cooperate closely with the EU through the Agreement on the European Economic Area (EEA). The donors have provided €3.3 billion through consecutive grant schemes between 1994 and 2014. For the period 2014-2021, the EEA and Norway Grants amount to €2.8 billion. More details are available on: www.eeagrants.org and www.eeagrants.ro